This project aims to carry out comparative investigations and evaluations of air pollution processes and the related pollution sources in Northern India and South Germany. Several megacities are located in Northern India especially along the Ganges. Air pollution is high in those cities, such as Delhi, Kanpur or Varanasi and leeward landscapes function as sinks for the emissions. India faces the challenge of not very much controlled sources of air pollution, whereas South Germany already underwent the transition of industry to less air polluting technologies. Nevertheless, also in German cities and settlements air pollution, especially by fine particles (PM2.5), is still a cause of concern. Therefore, this project aims to summarize the state-of-art regarding air pollution in Northern India and South Germany to outline similarities and differences in the history of urban air pollution and to identify measures to mitigate the situations. The comparison of time series of air pollutions will shed light on the influence of economic development on air pollution and the effectiveness of mitigation measures to control air pollution. Furthermore, joint sampling and measurement campaigns in the Gangetic Basin and the Rhine Rift Valley will be carried out to investigate the influence of different climates on air pollution in the specific regions of interest.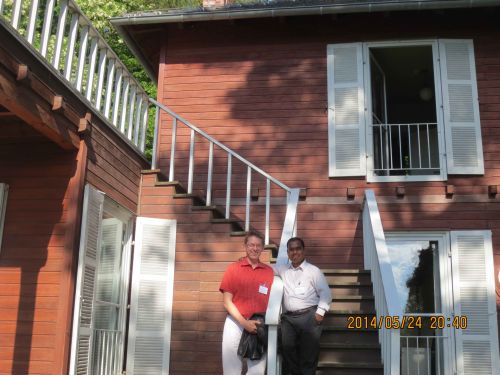 Kirpa Ram (right) and Stefan Norra (left) at the 6th Indo-German Frontiers of Engineering Symposium in May 2014 at Potsdam, Germany
This project is a cooperation with Dr. Kirpa Ram, Asst. Prof., Institute of Environment and Sustainable Development (IESD), Banaras Hindu University, Varanasi, India.