Applied Geosciences Master
We welcome you to our 2-year MSc program Applied Geosciences at KIT. Since the foundation of the Karlsruhe University in 1825, Applied Geosciences has continuously contributed to the further development of KIT in research and teaching. At Germany's oldest University of Technology, we focus on the sustainable use of the environment, above and underground.
Our applied study program is hosted within the Engineering Faculty of Construction-Geo-Environment. In our English Master's program ERS you will acquire competences on Sustainable Energy-Resources-Storage (ERS) according to your interests. For our other two profiles, the language of instruction is German.
Degree
Master of Science
Standard study period
4 Semester (2 years, 120 ECTS)
MSc profiles
Language of instruction is English

Sustainable Energy-Resources-Storage (ERS): Entry English B2 proficiency (German high school diploma (Abitur) level)

Language of instruction is German

Hydro- & Engineering Geology: German proficiency
Mineralogy & Geochemistry - MiG: German proficiency

What is a B2 English proficiency?

A German high school diploma (Abitur) with a basic course in English, or
Test of English as Foreign Language (TOEFL) with at least 90 points in the internet-based test or
IELTS with an overall score of at least 6.5 and no Section under 5.5 or
University of Cambridge Certificate in Advanced English (CAE) or
University of Cambridge Certificate of Proficiency in English (CPE)
UNIcert at least level II.
See also statutes for access to the MSc AGW

Module handbook (MHB)

in english: MHB WS20/21 EN,MHB SS20 EN

Examination regulations (SPO)
Admission
besides the legal text (in German), please refer to the Int'l Office, regular start of MSc is the winter term
Archive
older MHBs and SPOs
You at
KIT!
Whether renewable energies, water or raw materials for batteries and solar systems - are you interested in the sustainable use of resources? We at KIT University of Excellence are one of the few applied institutes in Germany that hold top positions in international rankings. Here, you receive an excellent education and get to know your lecturers personally. At one of the largest engineering research institutions in Europe, we teach small groups. Karlsruhe, one of the sunniest cities in southwestern Germany, offers you a high quality of life in one of the economically strongest regions of Europe. Together we develop sustainable solutions for global challenges!
Our Profiles in the Master Applied Geosciences @KIT
Our MSc program in Applied Geosciences has three different profiles: Sustainable Energy-Resources-Storage (ERS), Hydrogeology & Engineering Geology (HYDRO-ING) and Mineralogy & Geochemistry (MiG). The MSc ERS is a full program offered in English.
Our students on a field trip to Iceland.
We teach what we research and research what we teach: In Geoenergy on the production of geothermal energy and chemical energy sources such as hydrogen towards CO2-free energies, in Groundwater on sustainable water management, in RawMaterials (metals, minerals) on the resources to supply renewable energies, battery storage and industrial products, in Storage on water dams and large subsurface facilities for heat, cold, chemical energy sources, hydropower, greenhouse gases (CCS) and other repositories.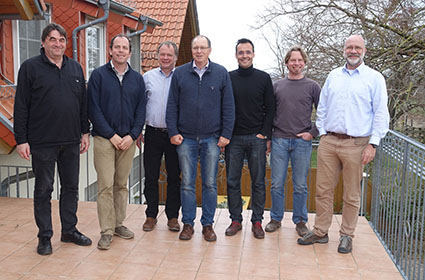 Our professors.
Your future begins with us.
Your commitment and our applied focus will qualify you for jobs in industry, the service sector, public administration, and for an academic career (doctorate). KIT as University of Excellence offers excellent research infrastructures in the Helmholtz Association. And our Faculty of Civil Engineering, Geo- and Environmental Sciences enables you to shape your future.