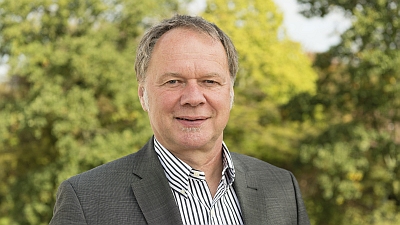 Research Fields
Deep geothermal systems (with focus on induced seismicity and geomechanical fracture behavior)
Numerical methods
Coupled thermal-hydraulic-mechanic-chemical processes in fractured rock
Stress field analysis
Curriculum Vitae
Prof. Dr. Thomas Kohl is full professor at Karlsruhe Institute of Technology, KIT. He holds the chair of the Division of Geothermal Energy at the Institute for Applied Geosciences and is head of the topic "Geothermal Energy Systems" at KIT contributing to the research field "Energy" in the program "Renewable Energies" as defined by the Helmholtz Association.
After his degree in Geophysics at the Technical University of Karlsruhe, he became research associate at CNRS in Paris in the field of seismology. In 1992 he got his PhD at ETH Zurich on his investigations of coupled processes in deep geothermal systems. After completing his habilitation thesis he became senior lecturer at ETH Zürich in 1999 as recognized expert on subsurface and especially in geothermal systems. His code FRACTure on coupled hydraulic-thermal-mechanical processes used world-wide was applied to charac-terize fractured rock in complex subsurface terrain. As co-founder of GEOWATT AG in Zürich he was the CEO of this ETH spin-off, medium size company between 2003 and 2011. Here he collaborated in European and national research projects also as work package leader and directed numerous geothermal project realiza-tions. As such, he was leading projects in Switzerland, Germany, Hungary, U.S. and France. At KIT in Karlsruhe, a major research focus is on the investigation of geomechanical aspects in fractured systems. As such, the origin and impact of induced seismicity and the impact on the reservoir is of strong interest. Using the exceptional possibilities of the surrounding geothermal projects, systematic data analyses in combination with the tectonic setting in the Rhine Graben are conducted. With his arrival, KIT became an internationally renowned institution in geothermal research. T. Kohl has organized several high rank workshops and is one of the initiators of the European Geothermal Workshop organized jointly with University Strasbourg. T. Kohl is member of several scientific committees in Germany and France. At KIT he has established several teaching modules and is engaged in international Master Programs. Additionally, he is editor in chief of Geothermal Energy Journal and special issues of Geothermics, member of the International Heat Flow commission IASPEI, and EERA – JPGE management board member. He gave numerous presentations and invited talks at high-level scientific conferences and is author of more than 70 reviewed manuscripts in renowned journals. He is col-laborating with many worldwide industrial projects. Since 2017 he is spokesman of the working group "Geothermal Energy" of the German Geophysical Society.
Education and Professional Experience
1981 - 1988 Study of Geophysics at Technical University Karlsruhe
1987 - 1988 Post graduate researcher at CNRS (Centre National de la Recherche Scientifique) Paris
1988 - 1992 PhD thesis at Institute of Geophysics at ETHZ (ETH Zurich)
1991 - 1996 Research Assistant / Postdoc at ETH Zurich
1997 - 2003 Senior Researcher (Oberassistent) at ETH Zurich
1999 Habilitation at ETH Zurich and nomination as Assoc. Professor (Privatdozent)
2002 - 2011 Founder and CEO of the company GEOWATT AG in Zurich
2006 - 2010 Honorary Professor at University Freiburg
Since 2010 Full Professor at KIT Karlsruhe
Activities in the Scientific Community, Honors, Awards
1994 –1996 Chairperson Institute's Council at Institute of Geophysics, ETH Zurich
1996 Young Scientists' Publication Award of European Geophysical Society (EGS)
1998 - 2003 Representative of IASPEI in Swiss National Committee of IUGG
1999 Best Paper Award at Geothermal Resource Council (GRC)
2000 - 2008 Board member of Swiss Geothermal Association
2000 - 2010 Board member of Swiss Geophysical Commission,
Since 2003 Member of "International Heat Flow Commission" of IASPEI
2005 - 2010 Board member of CREGE (Centre de Recherche en Géothermie), Neuchâtel
2010 - 2015 Member Faculty Council (Fakultätsrat), Dept. Civ. Engin., Geo & Envir. Sciences, KIT
Since 2010 Scientific Speaker of German Geothermal Economic Forum
Since 2011 Deputy of EERA- JPGE SP 2 "Accessing & Engineering of the Reservoir"
Since 2012 Responsible of the Helmholtz Topic "Geothermal Energy Systems" at KIT
Since 2013 Editor-in-Chief of Journal of Geothermal Energy, Guest Editor of Geothermics
2015 Henry J. Ramey Award of GRC for "seminal contributions to the modeling of hydraulic stimulation of EGS reservoirs and fluid flow in fractured media, and for mentoring the next gener-ation of geothermal reservoir engineers"
Teaching Experience
1997 – 2011 Courses at ETHZ: Borehole Geophysics, Theoretical Gravimetry & Geomagnetics, Geothermal
1993 – 2014 Post-diploma courses at: EPF Lausanne, Universities Neuchâtel, University Zürich, Engineer. Colleges in Switzerland / Germany on Numerical Modelling, Geothermal utilization
1997 – 2010 Supervisor of theses: 3 x Diploma, 2 x PhD (all ETHZ), 3 x PhD, 1 x habilitation
2006 – 2010 Courses of Borehole Geophysics and Geothermal at University Freiburg
2010 – 2015 Education program at KIT with 5 course modules (Borehole Technology, Heat Transport in Earth, Applied Geothermics, Geothermal Research Topics, Numerical Methods Earth Science)
2010 – 2015 Theses primary supervisor: 9 x Dissertations (2x "summa cum laude" both with awards), 10 x MSc (2 awards) , 5 x BSc, sec. supervisor/committee member: 10 x PhD
Publications 2010-2015 - Peer Reviewed (ISI, Scopus)

| Title | Author | Source | Year |
| --- | --- | --- | --- |
| Geothermische Ressourcenbewertung in Hinsicht auf mögliche Nutzungskonflikte im Schweizer Molassebecken | Kohl T., Schill E. und Baujard C. | Z. geol. Wiss., 38 (1): 27–39 | 2010 |
| 3D Temperature Inversion Derived From Deep Borehole Data in the Northeastern German Basin | Ollinger D., Baujard C., Kohl T., Moeck I. | Geothermics 39 (2010) 46-58 | 2010 |
| The Role of Triggering by Static Stress Transfer During Geothermal Reservoir Stimulation | M. Schoenball, C. Baujard, T. Kohl and L. Dorbath | Journal of Geophysical Research, 117, B09307, doi:10.1029/2012JB009304 | 2012 |
| Corrosion and scaling as interrelated phenomena in an operating geothermal power plant | Mundhenk, N., Huttenloch, P., Sanjuan, B., Steger, H., Kohl, T., Zorn, R. | Corrosion Science 70 (2013), pp. 17-28 | 2013 |
| Metal corrosion in geothermal brine environments in the upper rhine graben - laboratory and in situ studies | Mundhenk, N., Huttenloch, P., Kohl, T., Steger, H., Zorn, R. | Geothermics 46 (2013) 14–21 | 2013 |
| Identification and characterization of hydrothermally altered zones in granite by combining synthetic clay content logs with magnetic mineralogical investigations of drilled rock cuttings. | Meller C, Kontny A, Kohl T | Geophys J Int. 199 (1), 465-479. doi: 10.1039/gji/ggu278 | 2014 |
| The application of a neural network to map clay zones in crystalline rock | Carola Meller; Albert Genter; Thomas Kohl | Geophysical Journal International 2013; doi: 10.1093/gji/ggt423 | 2014 |
| Change of stress regime during geothermal reservoir stimulation. | Schoenball, M., Dorbath, L., Gaucher, E., Wellmann, J. F., & Kohl, T. | Geophysical Research Letters, in press, doi:10.1002/2013GL058514 | 2014 |
| Economic evaluation of geothermal reservoir performance through modeling the complexity of the operating EGS in Soultz-sous-Forêts | Held, S., Genter, A., Kohl, T., Kölbel, T., Sausse, J., & Schoenball, M. | Geothermics, 51, 270-280 | 2014 |
| Inferring the in situ stress regime in deep sediments: an example from the Bruchsal geothermal site | Meixner J., Schill E., Gaucher E., Kohl T. | Geothermal Energy 2:7 | 2014 |
| The significance of hydrothermal alteration zones for the mechanical behavior of a geothermal reservoir. | Meller, C., Kohl, T. | Geothermal Energy | 2014 |
| Large magnitude events during injections in geothermal reservoirs and hydraulic energy: A heuristic approach | Baujard C., Schoenball M., Kohl T., Dorbath L. | Geothermics 52 (), 140-152, DOI:10.1016/j.geothermics.2014.07.002 | 2014 |
| Schadensfallanalyse von Erdwärmesondenbohrungen in Baden-Württemberg | Grimm M., Stober I., Kohl T., Blum P. | Grundwasser (DOI 10.1007/s00767-014-0269-1) | 2014 |
| Impact of fracture networks on borehole breakout heterogeneities in crystalline rock | Sahara D.P., Schoenball M., Kohl T., Müller B.I.R. | International Journal of Rock Mechanics and Mining Science, 71, 301-309 (doi: 10.1016/j.ijrmms.2014.07.001) | 2014 |
| Local Stress Anomaly in the Alpine Molasse Basin | Seithel R., Steiner U., Müller B., Hecht Ch., Kohl T. | | 2015 |
| Geochemical and hydrothermal characterization of a geothermal spring system in the southern black forest, Germany. | Rolker, J., Kohl, T., Neumann, T., Schill, E., Schneider, J., Stober, I. | Geothermal Energy, 3-5; DOI:10.1186/s40517-014-0021-1 | 2015 |
| Induced seismicity in geothermal reservoirs: A review of forecasting approaches | Gaucher E., Schoenball M., Heidbach O., Zang A., Fokker P.A., van Wees J.-D., Kohl T. | Renewable & Sustainable Energy Reviews, 52, 1473-1490, DOI: 10.1016/j.reser.2015.08.026 | 2015 |
Publications before 2010 - Peer Reviewed (ISI, Scopus)

| Title | Author | Source | Date |
| --- | --- | --- | --- |
| Three-dimensional distribution and evolution of permafrost temperatures in idealized high-mountain topography | Noetzli, J., Gruber, S., Kohl T., Salzmann, N., Haeberli, W. | JGR, Vol. 112, F02S13, doi:10.1029/ 2006JF000545 | 2007 |
| Predictive modeling of reservoir response to hydraulic stimulations at the European EGS site Soultz-sous-Forêts | Kohl T., Mégel T. | Int. J. of Rock Mechanics & Mining Sciences, 44, 1118–1131 | 2007 |
| Numerical Evaluation Of Thermal Response Test Analyses | Signorelli S., Bassetti S., Pahud D., Kohl T. | Geothermics, 36: 141-166 | 2006 |
| The potential of the use of dense fluids for initiating hydraulic stimulation | Mégel, T., Kohl, T. and Hopkirk, R.J. | Geothermics, 35: 589-599 | 2006 |
| The deep EGS (Enhanced Geothermal System) project at Soultz-sous-Forêts (Alsace, France) | Gérard A., Genter A., Kohl T., Lutz Ph., Rose P. and Rummel F. | Geothermics, 35: 473-483 | 2006 |
| Development of a Regional Geothermal Resource Atlas | Kohl, T., Signorelli, S., Engelhardt, I., Andenmatten Berthoud, N., Sellami, S & Rybach, L. | J. Geophys. Eng. 2, 372-385 | 2005 |
| Interpretation of Geothermal Profiles Perturbed by Topography: Alpine Permafrost Boreholes at Stockhorn Plateau, Switzerland | Gruber, S., King, L., Kohl, T., Herz, T., Haeberli, W., Hoelzle, M. | Permafrost & Periglacial Processes, 15, 349–357 | 2004 |
| Regional ground surface temperature mapping from meteorological data | Signorelli S., Kohl T. | Global and Planetary Change, 40, 267–284 | 2004 |
| Waste heat problems and solutions in geothermal energy | Rybach, L., and Kohl, T. | Buchkapitel in: Gieré, R. and Stille, P. (Edit.): "Energy, Waste, and the Environment - A Geochemical Perspective", Geological Society of London, Special Publications no. 236, 369-380 | 2004 |
| Water solubility and diffusivity in olivine: Its role for planetary tectonics | Regenauer-Lieb K., and Kohl T. | Mineralogical Magazine, 1-28 | 2004 |
| Geochemical modelling of the Soultz-sous-Forêts hot fractured rock system: Comparison of two reservoirs at 3.8 and 5 km | Rabemanana, V., Durst, P., Bächler, D., Vuataz, F.-D., Kohl T. | Geothermics, 32, pp 645 –653 | 2003 |
| Geothermal resource mapping - Example from Northern Switzerland | Kohl, T., Andenmatten, N., and Rybach, L. | Geothermics, 32, pp. 721 –732 | 2003 |
| Impact of graben-parallel faults on hydrothermal convection––Rhine Graben case study | Bächler, D., Kohl, T., and Rybach, L. | Physics and Chemistry of the Earth, 28, pp 431 –441 | 2003 |
| Using geothermal hybrid plants for electricity production from Enhanced Geothermal Systems | Kohl, T., Speck, R., and Steinfeld, A. | Geothermal Resources Council Transactions, 26, 315-318 | 2002 |
| System performance of a deep borehole heat exchanger | Kohl, T., Brenni, R., and Eugster, W.J. | Geothermics, 31, 687–708 | 2002 |
| Hydraulic-Geothermal Modelling of Koralm Base Tunnel | Graf, F., Kohl, T., Rybach, L., Mégel, T., Sutterlütti, R., and Fuchs, R. | Felsbau, 6, 25-32 | 2002 |
| Three-dimensional thermal investigation below high Alpine topography | Kohl, T., Signorelli, S., and Rybach, L. | Physics of the Earth and Planetary Interiors, 126, pp. 195–210 | 2001 |
| Ground surface temperature reconstruction based on data from a deep borehole in permafrost at Janssonhaugen | Isaksen, K., Vonder Mühll, D., Gubler, H., Kohl, T., and Sollid, J. L. | Svalbard, Annals of Glaciology, 31, pp. 287-294 | 2000 |
| Transient thermal effects at complex topographies | Kohl, T. | Tectonophysics, 306, 311-324 | 1999 |
| Palaeoclimatic temperature signals - can they be washed out? | Kohl, T. | Tectonophysics, 291(1-4), 225-234 | 1998 |
| The thermal regime of the crystalline continental crust - implications from the KTB | Clauser C., P. Giese, E. Huenges, T. Kohl, H. Lehmann, L. Rybach, J. Šafanda, H. Wilhelm, K. Windloff & G. Zoth | J. Geophys. Res., 102(B8), pp.18417-18441 | 1997 |
| Kohl, T., Evans, K.F., Hopkirk, R.J., Jung, R., & Rybach, L. | Observation and simulation of non-Darcian flow transients in fractured rock | Water Resources Research, 33(3), pp.407-418 | 1997 |
| Thermal and hydraulic aspects of the KTB drill site | Kohl T. & L. Rybach | Geophys. J. Int., 124(3), pp.756-772 | 1996 |
| "FRACTure" a simulation code for forced fluid flow and transport in fractured porous rock | Kohl T. & R.J. Hopkirk | Geothermics, 24(3), pp 345-359 | 1995 |
| Coupled hydraulic thermal and mechanical considerations for the simulation of Hot Dry Rock reservoirs | Kohl, T., Evans, K.F., Hopkirk, R.J., & Rybach, L. | Geothermics, 24(3), pp 333-343 | 1995 |
| Numerical simulation of radon transport from subsurface to buildings | Kohl T., F. Medici & L. Rybach | J. of Appl. Geophys, 31, pp 145-152 | 1994 |
| The effects of fracture normal compliance on HDR long term behavior | Evans K.F., T. Kohl, L. Rybach & R.J. Hopkirk | Geothermal Resources Council Transactions, 16, pp 449-456 | 1993 |
| Modellsimulation gekoppelter Vorgänge beim Wärmeentzug aus heissem Tiefengestein | Kohl T. | Doktorarbeit ETH Zürich, No 9802, Switzerland | 1992 |
| The upper mantle degree two pattern: constraints from Geoscope fundamental spheroidal mode eigenfrequency and attenuation measurements | Romanowitz B., G. Roult & T. Kohl | Geophys. Res. Lett., 14 (12) | 1987 |
Publications 2010-2016 - Proceedings, other
Title
Author
Source
Date
Geoenergy Modeling III - Enhanced Geothermal Systems

Watanabe, N., Blöcher, G., Cacace, M., Held, S., Kohl, T.


Springer Briefs in Energy


Slip Tendency Analysis & Frictional Strength of Reservoir Rocks in south Germany

Seithel, R., Müller, B., Steiner, U., Kohl, T., Henk, A., Stober, I.


In: EGEC European Geothermal Congress, 6 p., Strasbourg, France


2016
Effects of major fault zones on geothermal reservoirs – a case study at Villarrica Volcano, southern Chile

Held, S., Schill, E., Pavez, M., Diaz, D., Morata, D., Kohl, T.


In: Proceedings European Geothermal Congress, Strasbourg


2016
Geochemical Reservoir Exploration and Temperature Determination at the Mt. Villarrica Geothermal System, Chile

Nitschke, F., Held, S., Villalon, I., Mundhenk, N., Kohl, T., Neumann, T.


In: Proceedings European Geothermal Congress, Strasbourg

2016
Geothermal reservoir characterization using Strontium isotopes in a medium-temperature geothermal system at Villarrica volcano, southern Chile

Held, S., Schill, E., Kohl, T.


In: HiTAC - II Workshop 2015

2015
Tectonic control of the geothermal system at Mt. Villarrica - Insights from geophysical and geochemical surveys

Held, S., Schill, E., Pavez, M., Diaz, D., Morata,D., Kohl, T.


In: Chilean Geological Conference 2015

2015
Geoscientific Challenges for Geothermal Development in Europe and South America

Kohl, T., Held, S., Schill, E.


In: Chilean Geological Conference 2015

2015
The application of THC Code TOUGHREACT-Pitzer on Failure Conditions of Geothermal project GeneSys

Nitschke, F., Held, S., Himmelsbach, T., Kohl, T.


In: European Geothermal Workshop 2015


2015
Reactivity of Chilean Reservoir Rocks and the Use of Geochemical Tools for Reservoir Characterization

Nitschke, F., Held, S., Mundhenk, N., Villalon, I,. Kohl, T., Neumann, T.


In: European Geothermal Workshop 2015

2015
How synthetic clay content logs from well logs can help to assess the behavior of a geothermal reservoir upon hydrothermal stimulation.

Meller C, Kohl, T.

In: World Geothermal Congress 2015

2015
The geomechanical significance of clay for geothermal reservoirs.

Meller C, Kohl T


In: 3rd European geothermal Workshop, Karlsruhe, 15th-16th October 2014 2014. p 6. doi:10.13140/2.1.4055.2966

2014
Application of Image Log Data for Geomechanical Reservoir Characterization of a Geothermal Project.

Seithel R., Steiner U., Müller B., Kohl Th., Hecht Ch.

In: 10th International Geothermal Conference, Freiburg, 15.05.2014

2014
Are the seismogenic responses of the Soultz and the Groß Schönebeck enhanced geothermal fields understood?

Gaucher, E. & Kohl, T.


in 74th annual meeting of the German Geophysical Society (DGG), Karlsruhe, 10-13 March


2014
The peculiar shut-in behavior of the well GPK2 at Soultz-sous-Forêts

Schoenball, M., & Kohl, T.

GRC Transactions, 37, 217–220

2013
Geothermal Energy: a glimpse at the state of the field and an introduction to the journal

Kloditz O., Jakobs L.A., Huenges E., Kohl T.


Geothermal Energy 1 (1)


2013
Time-dependent brittle creep as mechanism for time-delayed wellbore failure

M. Schoenball, D.P. Sahara, T. Kohl

The 6th International Symposium on In-Situ Rock Stress, Sendai, Japan

2013
Change of stress during reservoir stimulation

M. Schoenball, E. Gaucher, F. Wellmann, T. Kohl

2nd European Geothermal Workshop, Strasbourg, France

2013
The Role of Active Fractures on Borehole Breakout Development

D.P. Sahara, T. Kohl, M. Schoenball, B. Müller

AGU Fall Meeting Abstracts, T53C-2597, San Francisco, USA

2013
Complete release of horizontal shear stresses during geothermal reservoir stimulation

M. Schoenball, E. Gaucher, F. Wellmann, T. Kohl

AGU Fall Meeting Abstracts, S31F-02, San Francisco, USA

2013
Approach for Determination of the Failure Probability at the Soultz-sous-Forêts EGS Project
C. Meller, T. Kohl and E. Gaucher


in Proceedings 37th Workshop on Geothermal Reservoir Engineering, Stanford University, pp. 8, Stanford, California

2012
Changes of Coulomb Failure Stress due to Dislocations during Stimulation of GPK2 at Soultz-sous-Forêts
M. Schoenball, C. Baujard, T. Kohl and L. Dorbath
In Proceeding of Stanford Geothermal Workshop, pp. 11, Stanford
2012
Corrosion research in Soultz-sous-Forêt (France)

Mundhenk, N., Steger, H., Kohl, T.

GRC Annual Meeting 2012, Reno, USA

2012
Multi-disciplinary prospection approach for EGS reservoirs in the German Variscian Basment

Schill E., Kohl T. , Geiermann J., Baujard C., Koch S.,
Deckert H., Munoz G. and Abdelfettah Y.

Proc.Thirty-Sixth Workshop on Geothermal Reservoir Engineering Stanford University, Stanford, California

2011
Changes of Coulomb Failure Stress during Stimulation

M. Schoenball, C. Baujard and T. Kohl

In EAGE Sustainable Earth Science Conference, pp. 5, Valencia

2011
Coseismische Änderungen der Coulombspannung während der Stimulation eines geothermischen Reservoirs
M. Schoenball, C. Baujard, T. Kohl and L. Dorbath
Geothermiekongress 2011, 10 S., Bochum
2011
Microseismic monitoring of Bruchsal geothermal field

Gaucher, E. & Kohl, T.

Soultz Geothermal Conference, Soultz-sous-Forêts, France

2011
Integrative geothermal resource assessment of the Swiss Molasse Basin

Kohl T., Schill E. and Baujard C.

Proc. World Geothermal Congress 2010, Bali, Indonesia

2011
Evaluation of the potential use of geothermal heat exchangers in the CEVA tunneling project

Baujard C. and Kohl T.

Proc. World Geothermal Congress 2010, Bali, Indonesia

2010
Publications before 2010 - Proceedings, other

| Title | Author | Source | Date |
| --- | --- | --- | --- |
| Determining the Impact of Massive Hydraulic Stimulation on Local Microseismicity | Kohl, T., Mégel, T., Baria, R., Hopkirk, R. and Rybach, L. | Proceedings World Geothermal Congress 2005, Antalya,Turkey, Apr. 24-29 | 2005 |
| Regional ground surface temperature mapping from meteorological data | Signorelli, S., and Kohl, T. | Global and Planetary Change, in press | 2003 |
| Data analysis of the deep borehole heat exchanger plant Weissbad (Switzerland) | Kohl, T., Salton, M., and Rybach, L. | In: Proc. World Geothermal Congress 2000, Kyushu-Tohoku, Japan, pp. 2671-2676 | 2000 |
| Steps towards a comprehensive thermo-hydraulic analysis of the HDR test site Soultz-sous-Forêts | Kohl., T., Bächler, D., and Rybach, L. | In: Proc. World Geothermal Congress 2000, Kyushu-Tohoku, Japan, pp. 3459-3464 | 2000 |
| Numerical modelling of HDR reservoirs | Jupe A., D. Bruel, T. Hicks, R.J. Hopkirk, O. Kappelmeyer, T. Kohl, O. Kolditz, N. Rodrigues, T. Wallroth, J. Willis-Richards & S. Xu | Proc. World Geothermal Congress, Florence, Italy, pp 2571-2574 | 1995 |
| Modelling of turbulent flow transients within Hot Dry Rock fracture systems: Preliminary Results | Kohl T., K.F. Evans, R.J. Hopkirk, R. Jung & L. Rybach | Proc. World Geothermal Congress, Florence, Italy, pp 2597-2600 | 1995 |
| The salt heat tracer experiment | Kohl T., P. Marschall & L. Rybach | in: NAGRA NTB 93-47, pp 90-125, Baden, Switzerland | 1995 |
| Modelling of coupled hydraulic, thermal and mechanical behaviour in the simulation of Hot Dry Rock reservoir behaviour | Kohl T., K.F. Evans, R.J. Hopkirk & L. Rybach | In: L.R. Myer, N.G.W. Cook, R.E. Goodman & C.-F. Tsang (Eds), Fractured and Jointed Rock Masses, pp.535-542, Balkema, Rotterdam | 1995 |
| FRACTure - A new tool to simulate coupled processes in geosciences | Kohl T., R.J. Hopkirk, K.F. Evans & L. Rybach | In: K. Morgan, E. Oñate, J. Periaux, J. Peraire, O.C. Zienkiewicz (Eds), Finite Elements in Fluids, Pineridge Press, pp 949-958 | 1993 |