Applied Geosciences at Karlsruhe Institute of Technology
Welcome to Applied Geosciences @KIT University of Excellence! We are looking forward to welcome you at KIT in southwestern Germany, close to France and Switzerland.
As one of the most innovative and economically strongest regions in Europe, we are also a nucleus of applied geosciences. International top rankings such as the U.S. News and NTU rankings rate Applied Geosciences@KIT as number one in Germany, which demonstrates our international visibility.
At the oldest University of Technology in Germany and one of the oldest worldwide, we deal with the sustainable use of the environment, above and underground.
Overview
Bachelor program Applied Geosciences at KIT
Master programs Applied Geosciences at KIT
Your Studies @ KIT
Since the foundation of the Karlsruhe University in 1825, Applied Geosciences have continuously contributed to KIT's development in research and teaching on energy, groundwater, and raw materials.
Applied Geosciences Karlsruhe explores the processes of the utilizied Earth. Our applied study program offers you the opportunity to actively contribute to sustainable geoenergy, groundwater, raw materials and storage for the energy transition.
During your Bachelor- and Master studies of Applied Geosciences, our Faculty of Civil Engineering - Geo-Environment offers unique opportunities with geosciences, civil engineering, geodesy (remote sensing) and geophysics at KIT.
In the Bachelor's Program Applied Geosciences@KIT, solid fundamentals in mathematics, physics, chemistry and applied geosciences are taught in the first semesters of our natural science program.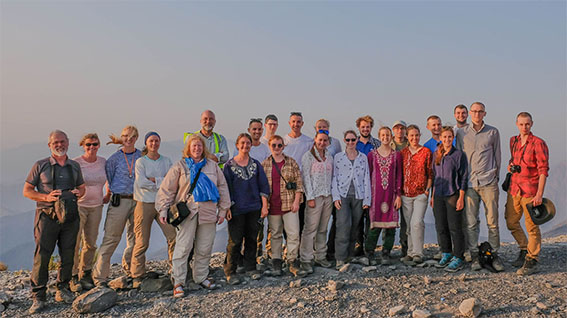 Students on a excursion (our field trips)
In the Master's Program Applied Geosciences@KIT, you choose one of three profiles ERS Sustainable Energy-Resources-Storage (in English), HYDRO-ING Engineering Geology and Hydrogeology (in German), and MiG Mineralogy and Geochemistry (in German). Our study programs are internationally accredited (BSc. 2019, MSc. 2020).
With our wide range of applied disciplines, you will expand your expertise in lectures and exercises as well as in many lab courses and internships. During small group exercises, you will also get to know your lecturers personally, in contrast to large study programs. Field exercises and excursions will take you through Germany and abroad. Study visits abroad will help you to sharpen your international profile.
You will select one of our three Master programs and you will acquire skills in line with your interests. You will contribute to the sustainable use of the environment and natural resources with your sound understanding of the underlying processes.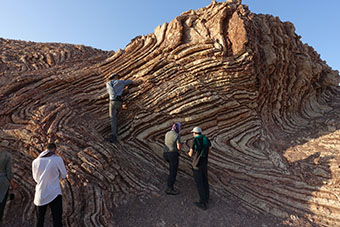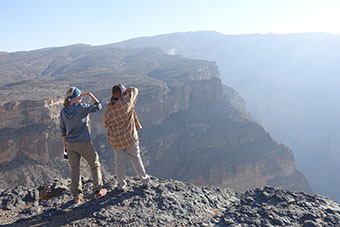 Your career opportunities
Our graduates work in the field of groundwater and foundation engineering, energy including renewable energies, in resource companies and environmental offices. With your skills of a solid academic education, critical analyses of complex data and efficient presentation of results, your knowledge wil enable you for a successful start in industry, government or science.